ATEM Production Studio 4K
The World's Most Advanced Live Production Switchers!
Create stunning multi camera live production with the world's most advanced production switchers! ATEM switches between SD, HD or Ultra HD video standards so you can form exciting live production with a wide range of video sources such as cameras, disk recorders and slide shows or animation from computers. You get powerful features such as chroma key, creative transitions, media pool, downstream keyers, audio mixer, multi view and more! The more advanced models include features such as up to 20 SDI inputs, SuperSource multi-layer engine, full motion DVE, stinger transitions, larger media pool with full motion clips and up to an incredible 6 auxiliary outputs!
Advanced Live Production
Creative features with advanced technology
Take your live production beyond broadcast quality! ATEM Production Studio 4K has all the features you need for the most innovative live concerts, sporting events, theater productions, conferences and more! When you're doing live events with super large high resolution screens, then simply switch your ATEM Production Studio 4K to Ultra HD for incredible quality. Many live events now use massive high resolution LED screens and projectors and now you can drive those screens in full resolution!
Innovative Design
Elegant machined metal design in a super compact size!
ATEM Production Studio 4K switchers feature an elegant machined aluminum front panel with dedicated buttons to let you switch auxiliary outputs. You can use the built in video screen to monitor auxiliary outputs or as technical monitoring to help during set up! You get the highest quality video and audio connections that switch virtually all SD, 720p HD, 1080i HD, 1080p HD and Ultra HD formats, plus built in multi voltage power supplies so you can take your switcher anywhere in the world!
Powerful Software and Hardware Control
Get innovative software control or choose a hardware panel
Software
ATEM 1 M/E Broadcast Panel
ATEM 2 M/E Broadcast Panel
ATEM live production switchers have the widest range of control options! You get full switcher control from any laptop or desktop computer with the included ATEM software control panel for both Mac and Windows. For demanding live production environments you can add a hardware based ATEM 1 M/E or 2 M/E Broadcast Panel featuring the highest quality buttons, knobs and faders for even faster switching! You also get an SDK for custom control. Only ATEM gives you such a wide range of control options!
Develop your own custom control with the included SDK for Mac and Windows.
Highest Quality Connections
Connect to SDI and HDMI equipment in SD, HD and Ultra HD!
ATEM 1 M/E Production Studio 4K
Built in power supply compatible with 110V to 240V sources.
6G-SDI inputs for cameras or decks in SD, HD and Ultra HD.
3x 6G-SDI Auxiliary outputs for clean feeds and monitoring.
HDMI and 6G-SDI program outputs and down converted HD output.
Connect XLR and HiFi audio equipment to built in audio mixer.
Inputs
ATEM Production Studio includes advanced 6G-SDI and HDMI 4K inputs that are SD, HD or Ultra HD switchable so you can connect to virtually anything! Every input supports embedded audio mixing and features a frame resynchronizer so you can use sources without genlock such as consumer HDMI cameras or even computers for live PowerPoint™ presentations! You also get 2 balanced XLR audio inputs for connecting professional mixers and a HiFi audio input for consumer equipment like an iPod®.
Outputs
Get all the outputs you need to record your video master and to broadcast your program to the audience at the event! ATEM includes program and down converted program outputs plus auxiliary outputs allowing clean feeds, perfect for connecting to giant outdoor LED screens, projectors, disk recorders, monitors and broadcast decks! The multi view outputs are 1080i HD so you can use any TV or monitor. You also get a balanced XLR output of your audio mix, which is also embedded into all video outputs.
Multi View Monitoring
Use a single screen for all your monitoring!
16 Cameras ATEM 2 M/E
The advanced ATEM 2 M/E Production Studio 4K model features 2 independent multi view outputs so that you can monitor up to 16 cameras simultaneously across 2 screens!
Other Configurations
ATEM's built in multi view lets you monitor the switcher's video inputs on a single SDI monitor or regular HDMI TV! Multi view outputs in regular 1080i HD, so even if your broadcast is in SD or Ultra HD you can still use a standard TV for monitoring! You can customize the multi view layout and also add custom labels. Multi view makes it easy to watch your program, preview, and live sources all simultaneously on a single monitor and you can even choose from 4 different screen layouts!
Creative Transitions
Get dozens of exciting
effects and transitions!
ATEM includes a huge range of real time high quality transitions that are available in all SD, HD or Ultra HD resolutions! Use mixes, dips, wipes and more for amazing broadcast quality live switching! Every transition is instantly available and you get full control of the transition type, pattern, length and other attributes. Create a customized 'on air' looks using the large choice of wipe patterns. The ATEM 1 M/E and 2 M/E Production Studio 4K models also include animated stingers and DVE transitions!
Use the DVE in ATEM 1 M/E Production Studio 4K to position, resize, rotate and scale live video, creating professional picture-in-picture effects.
Digital Video Effects
Position, resize, rotate and scale in real time!
The advanced ATEM 1 M/E and 2 M/E Production Studio 4K models include a powerful digital video effects processor. Use this amazing high quality DVE to position, resize, rotate and scale live video all in real time. Create professional picture-in-picture effects with customizable 3D borders, shadows and lighting. Add dynamic DVE transitions to your production with squeeze, push, swoosh and spin effects that displace your live video revealing the next source. You can even use the DVE for graphic wipe transitions!
SuperSource
Add multi box compositions quickly and easily with ATEM SuperSource! Available on the ATEM 2 M/E Production Studio 4K, you get a completely separate 5 layer switcher with the power of 4 picture in picture DVEs and 4 keyers that you can assign to any ATEM video input! Imagine using SuperSource for multi camera interviews or picture in picture production while leaving all your M/Es, keyers and DVE completely free for other tasks. SuperSource compositions can also be quickly saved and recalled in an instant!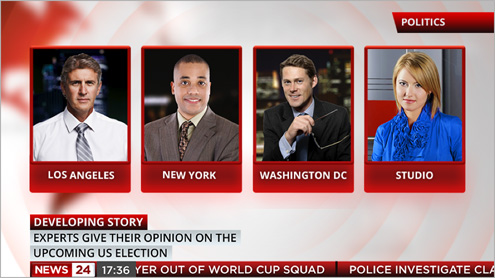 All popular image formats, such as PNG, TGA, BMP, GIF, JPEG and TIFF are supported.
Dual Media Players
Large graphics memory!
ATEM production switchers include media pool memory that lets you download still frames and graphics for keying using the two built in media players. All popular image formats are supported, or you can direct download from Photoshop CC with the included plug-in. The ATEM Production Studio 4K supports 20 Ultra HD RGBA still frame graphics, while the ATEM 1 M/E and 2 M/E Production Studio 4K models support 32 Ultra HD RGBA still frame graphics and 180 frames of real time Ultra HD video or 720 frames of real time 1080 HD video.
Powerful Keyers
Exciting multi layer effects!
ATEM includes amazing quality keying! Get powerful upstream keyers with luminance, linear, pattern and chroma keying that can handle everything from green screen shots to graphics and multi layer special effects. You also get 2 independent downstream keyers for logos, titles and other 'on air' graphics. The advanced ATEM 1 M/E and 2 M/E Production Studio 4K models include 4 upstream keyers for a massive 6 total independent keyers, allowing you to build exciting effects of up to 8 real time layers.
HyperDeck Control
Use pre-recorded HyperDeck clips in live programs!
ATEM Switchers work seamlessly with Blackmagic HyperDeck SSD recorders. You can connect up to 4 HyperDecks as sources, just like cameras, to playback pre-recorded clips during live program production! You can see the clips on each HyperDeck, select any clip, cue it, pre-roll, and play it back at any time. You can even create macros to record from an incoming camera source and play it back in slow motion! That's perfect for adding pre-recorded spots or promos, credit rolls, or even slow motion instant re-plays to your live program production!