Advanced Technology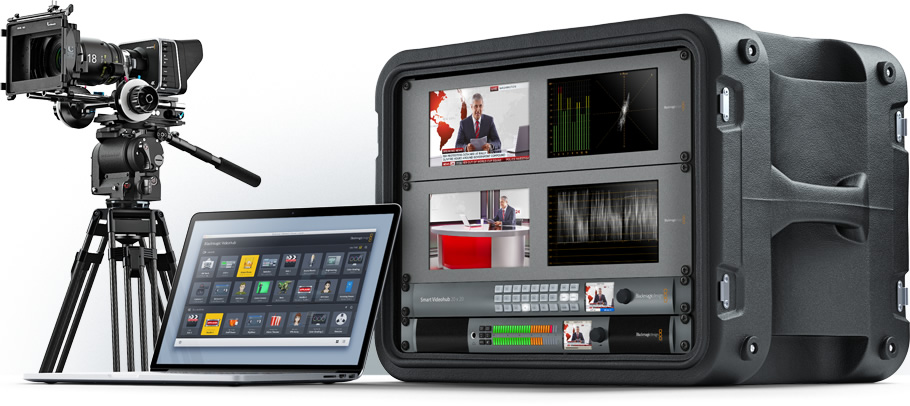 Multiple Formats
You need to be able to work with the growing number of worldwide television standards, and Smart Videohub has been designed to work with virtually all of them! You get support for 525 and 625 SD, 720 and 1080 HD, and the new 4K Ultra HD standard. Different video formats and frame rates can all be routed on the same Smart Videohub simultaneously, allowing you to work in virtually every format for compatibility with almost every broadcast standard!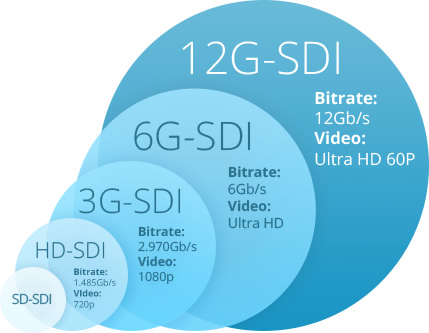 12G-SDI
SDI is an amazingly robust and flexible video standard! No other way of connecting video is as reliable as SDI because there is no computer based IP settings or complicated software involved. SDI is simple and is a pipeline of pixels pouring down the cable at high speed! Simply connect and you get pictures! SDI includes video, audio, timecode and metadata all embedded in a single cable. Because of its reliability, SDI is ideal for live production, post and broadcast. SDI is scaleable and multi rate, so you can switch formats and frame rates using the same physical single cable connection. The latest 12G-SDI technology is compatible with Ultra HD up to 2160p60, but still switches speed to work with older SD and HD-SDI equipment.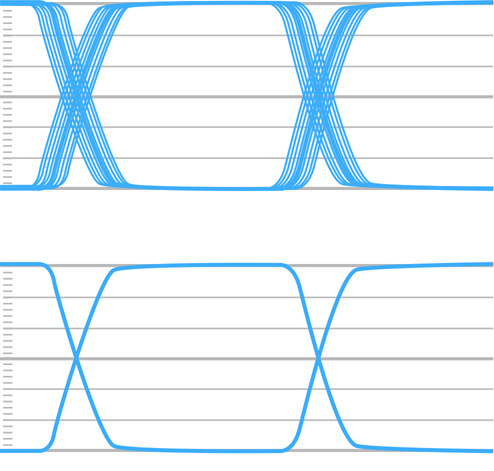 SDI signals with jitter degradation
Clean, reclocked SDI signals
SDI Re-Clocking
Videohub includes built in SDI re-clocking on every 6G-SDI input. SDI re-clocking regenerates the video signal for maximum video quality. This is extremely important because longer video cables degrade the signal. Expensive premium "digital" cables can help a little, but still cannot eliminate signal integrity loss due to cable lengths getting longer. With SDI re-clocking you get a regenerated and clean signal out to all of the SDI devices in your studio. That means longer cable lengths, and no glitches in your video.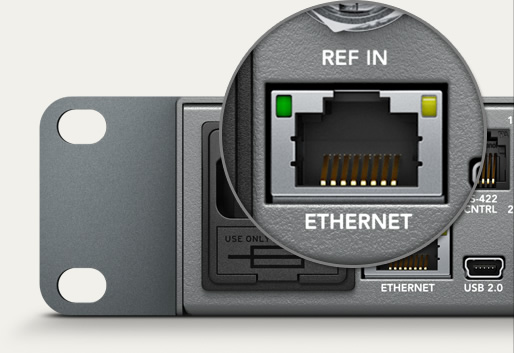 Ethernet Control
Ethernet is one of the most common computer networking standards and is used to provide connectivity in virtually every facility worldwide. The Smart Videohub can be controlled with remote hardware panels or via software over standard ethernet networks. All Videohub hardware control panels include industry standard Ethernet connections, making it easy to install them throughout your facility. Broadcast designers, editors, and colorists using Mac or PC workstations can use the free Videohub Control Software to instantly switch and route the signals they need over ethernet!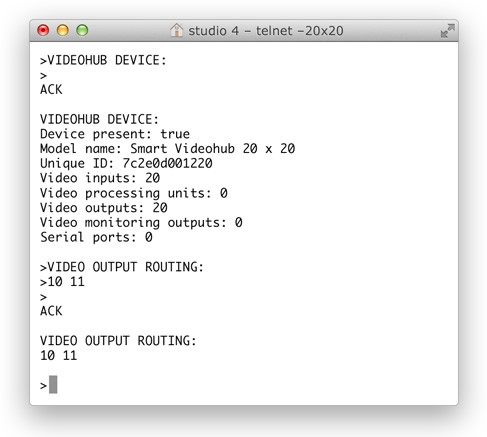 Developer SDK
You get a free SDK to create customizable control of your Videohub! The Software Developer Kit gives you the ability to connect Videohub to automated broadcast systems or create your own custom controls. Available for both Mac OSX and Windows operating systems, developers get detailed control protocol, libraries, sample code, documentation and more! The SDK gives you the tools you need to customize the integration of any Videohub model.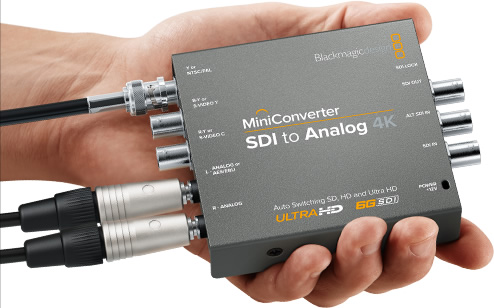 A$305
Mini Converter SDI to Analog 4K
Convert SDI in SD, HD or Ultra HD to analog video with down converter and audio.
Analog Equipment
Easily convert Analog to SDI
It's easy to connect analog equipment to your 6G-SDI Videohub using Blackmagic Analog to SDI Mini Converters. The converter's SDI output, complete with embedded audio, will connect directly to your router. The Teranex 2D is great for converting analog to SDI, with the added benefit of high quality up conversions and standards conversions, so you can even add standard definition video to your HD infrastructure.
Every SDI signal can carry up to 16 channels of embedded audio!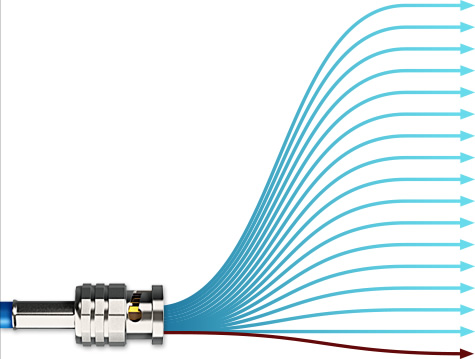 Audio ch 1
Audio ch 2
Audio ch 3
Audio ch 4
Audio ch 5
Audio ch 6
Audio ch 7
Audio ch 8
Audio ch 9
Audio ch 10
Audio ch 11
Audio ch 12
Audio ch 13
Audio ch 14
Audio ch 15
Audio ch 16
Video feed
Embedded Audio
Audio and video on one cable!
The SDI standard includes 16 channels of embedded audio with your video signal. That means you get up to 16 mono or 8 stereo channels perfectly synchronized with your video. If you need to route audio to analog equipment, it can easily be de-embedded from the SDI signal using Mini Converters. The advantage of SDI embedded audio means that you can route or directly patch synchronized audio and video on a single cable!
Bit Depth and Color Precision
Route video at the highest bit depth
Videohub is designed to support the highest quality video. That means you can route 4:2:2, 4:4:4, and 8, 10, or 12 bit video in any standard. 10 bit is the most commonly used standard now as colors can be represented much more accurately than 8 bit video. 10 bit processing prevents color banding which occurs with 8 bit video when the steps between shade gradations become too apparent and appear like bars of color instead of a smooth gradient. Smart Videohub also works with the latest 12 bit video video signals for even higher quality, so you get a future proof design!
10 Bit Color Depth Smooth color gradient.
8 Bit Color Depth Visible steps in gradient.
Unsynced Video Feed
Synced Video Feed
Genlock
Routing for live studio broadcast!
For applications that require Genlock, like broadcast and live production, you can connect your video reference signal to Videohub for clean vertical interval switching. All Smart Videohubs can also operate without Genlock in facilities that don't require vertical interval switching.
6G-SDI Smart Videohubs
12G-SDI Smart Videohub
Smart Videohub Control