Blackmagic Video Assist
Incredible all in one design for monitoring and recording!
The Blackmagic Video Assist is jam packed with features in a small, lightweight package that can be connected to virtually any camera. The front features a large touchscreen, there are video connections and SD card slots on the side, and space for two LP-E6 batteries on the back. The outer frame is made out of durable aluminum and features standard ¼" mount points on the top and bottom for attaching it to cameras and rigs. The Blackmagic Video Assist is completely self contained and made to be light weight so it's easy to hold in your hands, sit on a table using the built in kick stand, or mounted to the camera.
Aluminium Metal Frame
Light weight, durable construction
The frame of the Blackmagic Video Assist is made from aircraft grade aluminum which means you get an incredibly sturdy metal that barely adds any weight to your camera. The aluminum is precision machined into the intricate shape needed to house the connections and touchscreen display. It's also extremely strong, which makes it perfect for bracing the mounting points. You get a heavy duty metal that is comfortable enough to hold in your hand and still light enough to be mounted on even the smallest rig.
Machined
Aluminium Housing
Large Built In Monitor
Bright and vivid 5" or 7" display
Both models of Blackmagic Video Assist feature a big bright monitor and built in 3D LUT processor so you can clearly evaluate every shot. The 5" Video Assist gives you a full 1920 x 1080 display, while the 7" Video Assist 4K has a higher resolution 1920 x 1200 screen. With Video Assist 4K you can see 16:9 video clearly without covering the image with overlays! The on screen controls allow you to vary the brightness and contrast so it's perfect for shooting indoors or out. The wide 135º viewing angle makes it easy for multiple members of the crew to watch it at the same time. Image rotation can be locked or set to auto rotate, so no matter which way you set it up the picture is always displayed correctly.
Touchscreen Control
Modern and intuitive user interface
The built in display is also an incredibly intuitive and responsive capacitive touchscreen, which is used to configure and control the Video Assist. Tap and swipe gestures make it simple and quick to show or hide settings for the capture resolution and format as well as brightness and contrast of the screen. Swipe in another direction and you'll have access to transport controls, recording status, histogram, audio level, timecode, battery status, and more. Best of all, the controls are overlaid using a semi transparent heads up display, which allows you to always keep an eye on your shot!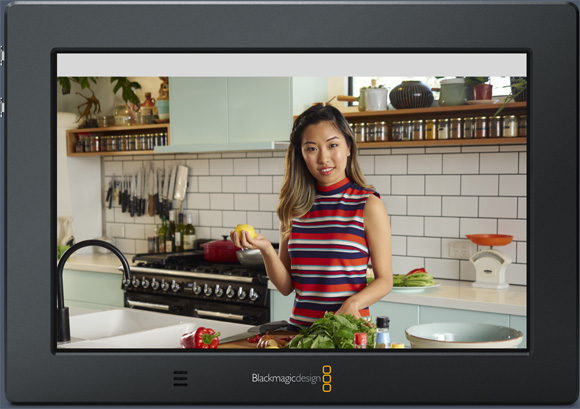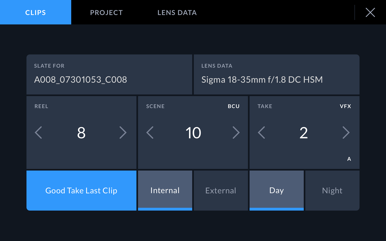 Connections
Plug into cameras, projectors and more.
Video and audio are captured using multi-rate 6G-SDI and HDMI, allowing you to record from almost any kind of camera. You also get loop thru outputs so you can display live video or recorded clips on external screens or projectors with embedded audio. You can also monitor audio using the 3.5mm stereo headphone jack or, on the 7" model, the built in speaker. For power, there's a 12V DC input and two LP-E6 battery slots. Blackmagic Video Assist 4K also features LANC, dual SDHC card recorders and two mini XLR microphone inputs!
Auto Rotate Screen
Mount it upside down or right side up!
Both models of Blackmagic Video Assist feature a built in accelerometer, so whether you mount it right side up or upside down, the image will always auto rotate so you can see it perfectly! You can also lock the screen to a specific orientation if you are using Blackmagic Video Assist on your way to Mars or on a gimbal that's rotating unpredictably! This makes Video Assist even more flexible, allowing you to rig it to the top or bottom of cameras and other equipment and orient it in the direction that makes connecting cables easy!
Mounting Points
Attach to cameras, equipment carts or hang it anywhere
There are 6 mounting points located on the top and bottom of the Video Assist. Using the bottom ¼ inch holes, you can securely attach it to the top of your camera as the ultimate HD viewfinder! The three ¼" holes on top allow you to hang it from rigs and use it as a monitor for the entire crew. The standard sized mounting points make it easy to mount and are compatible with third party rigging equipment.
Uninterruptible Power
Plug it in or go mobile
The Blackmagic Video Assist includes a universal 110V - 240V power supply so you can use it anywhere. When connected to the 12V DC input you get continuous power or you can run it off of dual Canon compatible LP-E6 rechargeable batteries. Intelligent battery management will use the battery with less charge first, then immediately switch to the other battery without interrupting recording. When connected to AC power, the batteries can be charged in parallel while the Video Assist is still being used. That means you never have to turn the Video Assist monitor off while you're on a shoot!
Serial Discharge
Parallel Charge
Blackmagic Video Assist
Blackmagic Video Assist
Add professional monitoring and broadcast quality recording for any camera or DSLR Includes 5" full HD touchscreen monitor with built in ProRes and DNxHD recorder.
Blackmagic Video Assist 4K
Add professional monitoring and broadcast quality recording to any HD or Ultra HD camera!
Blackmagic Video Assist Accessories
LP-E6 Battery
Order Code: BATT-LPE6M/CAM
2000 mAH LP-E6 compatible lithium-ion rechargeable battery compatible with Blackmagic Video Assist and Blackmagic Micro Cameras.
A$65
Power Supply
Order Code: PSUPPLY-12V20W2.5B
Universal 110V-240V power supply with international socket adapters for supplying AC power to Video Assist while simultaneously recharging the dual LP-E6 batteries.
A$45
Video Assist Mini XLR Cables
Order Code: HYPERD/AXLRMINI2
Adapter cable for connecting to professional audio equipment which use full size XLR connectors.
A$45