Award Winning Design
ATEM features advanced technology in an elegant design
ATEM Production Studio 4K switchers feature unique and revolutionary design because you get cutting edge technology and attractive design all miniaturized into an incredibly small size. The ATEM front panel is machined from a solid block of aluminum so it's an attractive design but also strong enough to withstand the bumps and shocks when it's installed in broadcast trucks and portable racks. With ATEM you get the most advanced technology and more creative features than any other solution!
Machined Metal
Elegant design looks great in your studio
ATEM Production Studio 4K switchers have an elegant machined aluminum design that's optimized for live production. Designed with the features complex production demands, the elegant front panel includes illuminated buttons for aux switching as well as built in video display for live status! The built in 6G-SDI and HDMI 4K connections mean you get the latest technology for a future proof design that will work for you for years to come. Its compact size means you can install anywhere!
Fast Aux Switching
Select aux outputs quickly from the front panel
ATEM Production Studio 4K switchers include independent auxiliary outputs which are perfect for driving big screens at live events, because your switcher has access to all the video sources and camera feeds. This means your aux outputs are part of the event and you can use the front panel aux control buttons to instantly select cameras and other sources to the aux output. You get the choice of outputting video inputs, media players, key masks, clean feeds, program, preview, test signals and more!
Professional Connections
Standard connections for quality and reliability
ATEM uses industry standard BNC connections for SDI video and XLR connectors for balanced analog audio so you get robust broadcast quality connections that maintain signal quality and support years of reliable operation. For compatibility with consumer cameras and computers HDMI connections are built in, eliminating the need for cumbersome external converters. Because the video connections support 6G-SDI and HDMI 4K you get a future proof design and the latest video technology.
SDI or HDMI Inputs
A model for your workflow
Choose from three exciting models of ATEM Production Studio 4K based on the needs of your workflow. The ATEM Production Studio 4K has 4 HDMI and 4 SDI inputs for a total of 8 inputs. For larger installations, the ATEM 1 M/E Production Studio 4K includes 10 SDI inputs and the ATEM 2 M/E Production Studio 4K includes 20 SDI inputs, with input 1 able to be switched to HDMI. All SDI and HDMI inputs can switch between SD, HD and Ultra HD television standards.
Ethernet Control
Connect your computer or control panel for switcher control.
HDMI In
Switchable HDMI input for cameras or computer sources in SD, HD or Ultra HD.
Up to 10 SDI Inputs
10x SDI inputs for camera or decks in SD, HD or Ultra HD.
REF In
Black Burst and HD-Tri-Sync genlock input.
Up to 3 AUX Outputs
Independent Aux outputs for clean feeds or driving large screens and projectors.
Preview Out
6G-SDI preview output for monitoring next source video.
Program Outputs
6G-SDI and HDMI program outputs and down converted HD output.
SDI or HDMI MultiView
View video inputs on a single SDI monitor or HDMI TV with downconverted HD output.
Professional Outputs.
Broadcast to your audience
No matter if you're broadcasting to your audience, connecting to your mastering recorder or streaming over the internet, ATEM has all the audio and video outputs you need. You get a 6G-SDI and HDMI main program output plus a down converted program SDI output. For easy monitoring on any HD-SDI or HDMI display, you get support for program, preview and 8 video source views using the built in multi view. Depending on the model you get up to 6 independent aux outputs!
HiFi Audio Input
Connect consumer HiFi audio equipment to built in audio mixer.
Balanced Audio Input
Connect professional audio equipment such as mics into built in audio mixer.
Analog Audio Out
Main mix output from built in audio mixer. Perfect for feeding PA systems.
Professional Audio
The audio connections you need for great sound
ATEM has been designed for true professional broadcast quality audio. You get a built in audio mixer that lets you live mix the embedded audio from all video inputs. All inputs feature audio sample rate converters for clean sound even when the video input from non genlocked sources is being resynchronized. Balanced analog XLR audio inputs and HiFi RCA audio inputs are included and connect directly into the built in audio mixer. The built in audio mixer lets you manually mix sources or you can set mixer inputs to "audio follow video" so your audio crossfades as you switch between sources. Your program audio is embedded onto all video outputs and also output to balanced analog XLR audio connections.
ATEM Production Studio 4K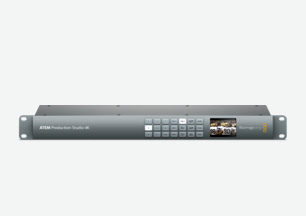 ATEM Production Studio 4K
The world's first Ultra HD live production switcher, includes 6G-SDI, HDMI 4K, chroma keying, built in media, audio mixer and more!
$1,695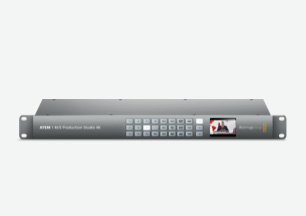 ATEM 1 M/E Production Studio 4K
Advanced 1 M/E live production switcher with DVE, stingers and 6G-SDI so you can work in SD, HD and Ultra HD!
$2,495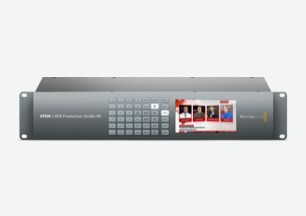 ATEM 2 M/E Production Studio 4K
World's most advanced live production switcher with 20 6G-SDI inputs, DVE, SuperSource and much more!
$3,995
ATEM 2 M/E Broadcast Studio 4K
Powerful 20 input 12G-SDI live production switcher for high frame rate HD and Ultra HD support, DVE, SuperSource, 4 media players, 6 keyers, 2 Ultra HD multi-viewers and more.
$5,995
ATEM 1 M/E Broadcast Panel
Control panel for ATEM live production switchers. Supports all ATEM switchers.
$4,995
ATEM 2 M/E Broadcast Panel
Control panel for ATEM live production switchers. Supports all ATEM switchers.
$14,995
GPI and Tally Interface
Adds 8 Tally relay contacts to any ATEM switcher.
$495