ATEM Production Switchers
The professional production switchers for SD, HD and Ultra HD!
ATEM Production Studio 4K switchers are portable and easy to connect, perfect for dedicated television studios, community town halls, churches and schools. You get a compact design that is also ideal for outside broadcast vehicles and portable road cases where space is limited. ATEM gives you the flexibility to work in virtually any resolution including SD, HD or incredible Ultra HD. So that means you can switch to Ultra HD at any time and capture incredible detail because you're working in the television format of the future!
Live Sport
Capture the excitement of live sports!
Imagine covering live sports with multiple cameras positioned at all the best angles to capture the action. Live sport is the perfect event for live production switchers because you can capture the excitement of the event and then instantly cut to close ups of the action. Use Photoshop CC and the built in media players to instantly update scorecards and graphics to help viewers understand what's happening in the chaos of the game! ATEM is the perfect live switcher for all types of sporting events.
Live Music
Broadcast the excitement and energy of live music events!
There is nothing more exciting than live music where the emotions and energy erupts in combination with the crowd! ATEM is perfect for live concert production. You can place your cameras around the stage for wide and close up angles of the musicians. Some of the most legendary music events in history were live concerts and your production could become a milestone in music history! The color and energy that can only be experienced live on stage will create fantastic finished programs!
Program Production
The fastest way to produce live television programming.
The fastest way to create professional television programming is to switch it live! You can set up cameras in your studio and then produce content live so you get energetic programing that has the exciting unpredictability of a live event. Interview and chat shows, cooking shows and even instructional programing are fast to produce and much lower cost than shooting scenes and manually editing. Live programming is fantastic for children's television shows where the excitement and fun of kids playing naturally in front of a studio audience can be captured live!
Broadcast News
Live news coverage of historic events!
The ultimate live event is real time news! Live production is the only way to cover live news because there is simply no time to shoot and edit. Live news can be broadcast or streamed over the internet for a worldwide audience. Even specialist news like tech news, sports news, or other specific news coverage can be completed with ATEM. You have all the graphics power and keys needed to present information professionally with the same high production values as the biggest broadcast networks.
Live Weddings
Multi camera weddings produce romantic results!
ATEM Switchers are perfect for producing beautiful real time wedding videos! Imagine delivering the completed program in time for the couple to take it on their honeymoon! Multi camera wedding productions capture the emotion of the event in a way that can not be done with a single camera! With romantic crossfades between wide shots and the close ups, and if you're connected to a television or projector in the venue, you can switch to a camera outside to show the wedding party arriving!
Worship
Broadcast to your community anywhere in the world!
ATEM Production Studio 4K switchers are perfect for broadcasting services to giant screens and off site campuses, so that every member of the community can see the minister, choir or congregation, no matter where they are in the world. ATEM Production Studio 4K switchers give you multiple program outputs and auxiliary outputs so you can broadcast live footage of the service to one screen and send lyrics to another screen while you are recording the final program for future use!
Conference Presentation
Create television programs
from speeches!
Turn speeches into television programs with your ATEM switcher! You can capture the speaker with multiple camera angles and even position a camera on the audience to capture their reaction to important speakers statements. Connect the speakers' slide presentation computer to the HDMI input of the ATEM and then connect the aux output to the projector. This means the presenter can show slides to the audience because it's looped via the switcher, but you also get access to the slides to cut them into the program.
ATEM Production Studio 4K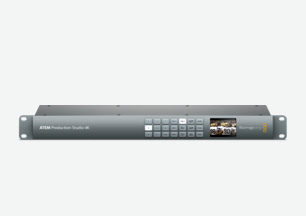 ATEM Production Studio 4K
The world's first Ultra HD live production switcher, includes 6G-SDI, HDMI 4K, chroma keying, built in media, audio mixer and more!
$1,695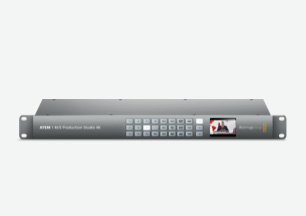 ATEM 1 M/E Production Studio 4K
Advanced 1 M/E live production switcher with DVE, stingers and 6G-SDI so you can work in SD, HD and Ultra HD!
$2,495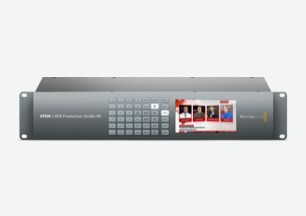 ATEM 2 M/E Production Studio 4K
World's most advanced live production switcher with 20 6G-SDI inputs, DVE, SuperSource and much more!
$3,995
ATEM 2 M/E Broadcast Studio 4K
Powerful 20 input 12G-SDI live production switcher for high frame rate HD and Ultra HD support, DVE, SuperSource, 4 media players, 6 keyers, 2 Ultra HD multi-viewers and more.
$5,995
ATEM 1 M/E Broadcast Panel
Control panel for ATEM live production switchers. Supports all ATEM switchers.
$4,995
ATEM 2 M/E Broadcast Panel
Control panel for ATEM live production switchers. Supports all ATEM switchers.
$14,995
GPI and Tally Interface
Adds 8 Tally relay contacts to any ATEM switcher.
$495